Vidalux Whirlpool Bath Range – Much More Than A Regular Whirlpool Bath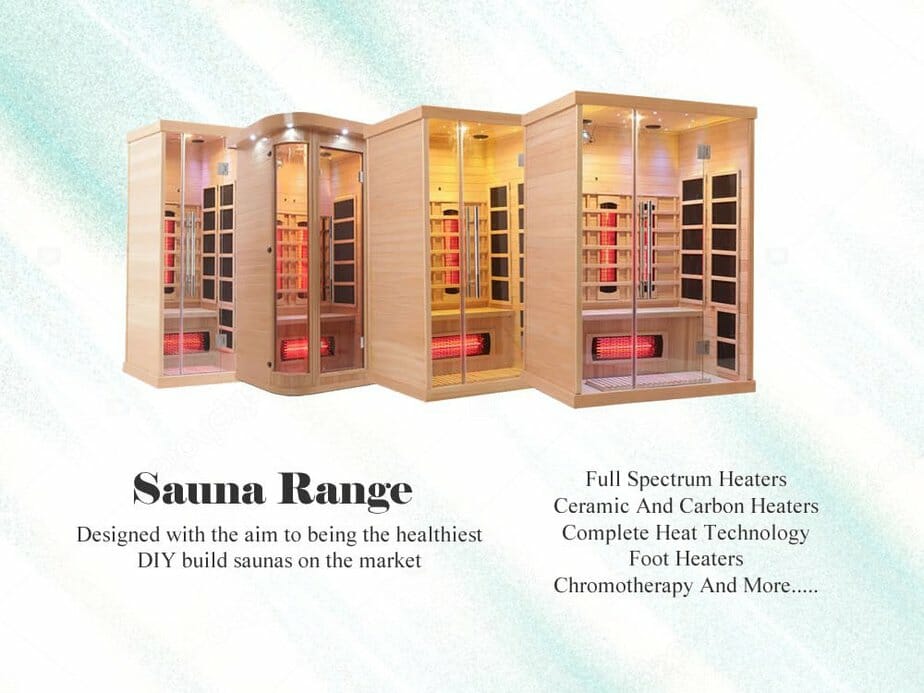 Vidalux Sauna Buyers Guide
Shower Innovation
Introducing The New Fully Customisable Range
Your Shower – Your Way
Choose Your Backboard Colour – Classic White, Midnight Black or the contemporary Mirror finish
Choose Your Tray Colour – Crisp White or a Contrasting Black
Choose Your Column Colour – Traditional Silver or Midnight Black
Choose Your Framework Colour – Stainless steel or a modern Black
Choose Your Floor & Stool Colour – Wood, White or Black to finish off the perfect centrepiece of your bathroom
The Same Quality That Made Us #1
A Revolution In Choice
Innovation That Others Envy Leading Where Others Follow
Just what makes Vidalux the best-reviewed sauna and shower brand? Well, there is a lot to unravel as we've been at the forefront of design and manufacturing and breaking the mould for over 15 years.
Our UK design and R&D team are leading the field in innovation and whilst we are constantly imitated. It's true to say that Vidalux stands at the front while others follow our lead. Many aspects found on the market today were introduced by us and while others work to Imitate, we're hard at work on the next improvements to keep us the best
*Please note – All the features below are not present on all models – Please refer to the product listing for the model's individual features
LEAK FREE – Nothing is hidden behind a wall with our showers and our unique design is GUARANTEED to never spill a drop. Vidalux's unique 'Leak-Seal' technology, which is only found in our range, ensures in the unlikely event water gets past the compression-sealed design, the leak-free tray simply directs it back via return channels
NO SILICONE ON SHOW – No more mouldy, unhygienic sealant spoiling your shower! Our unique revolutionary design means no silicone is required to be on show. Unique leak-seal technology ensures the highest level of integrity making our showers the market leaders
QUICK BUILD – Shower in under an hour!! In most cases, we find an installer can build the shower itself within 60 mins. Many of our models come complete with the fast-fix, screwless framework that takes the thinking and much of the labour out of the installation
QUICK RELEASE / EASY CLEAN DOOR WHEELS – Style is great but so is practicality. Quick-release wheels ensure you can easily clean in those otherwise previously hard-to-reach places. Spring mounted, easy gliding and effortless, these wheels install and remove instantly
FLOOR INSERT – Stylish plas-wood effect floor insert and freestanding stool is not only stylish and unique, it's completely rot-proof. Fully removable and easy to clean, no dirt or grime sticks to this wonderfully distinctive focal point
REMOTE CONTROL – Operate the radio, Bluetooth, steam and all other electrical functions at the touch of a button. Get your steam session ready without stepping inside or set the tone inside your bathroom with ambient lighting or your favourite playlist
FAST FLOW WASTE – A fast-flow 90mm waste trap ensures quick and efficient drainage and zero water pooling. All the fittings and fixtures inside our showers are standard UK fitting sizes and build to last and for easy installation
WARRANTY – We stand by the quality of our products. A leading brand with leading warranty and support. In the unlikely event you need it, we got you covered. Continuous supply of spares and replacements even after the warranty expires
AROMATHERAPY – Have a spa experience on a whole new level with our tailor-made shower essence oils. The ultimate indulgence. 5 beautifully crafted scents, perfect for elevating your senses, invigorating tired minds or offering relief from coughs, colds and much more
---
Overview
The benefits of steam have been appreciated for thousands of years but it's only been relatively recently that they've become available to ordinary people in their own homes.
The Vidalux steam shower range makes the health and wellness benefits of the steam room at the gym available at a price people can afford, making it possible for everyone to enjoy the luxury of steam treatments in the privacy and convenience of their own bathrooms.
Vidalux offers steam showers in a range of sizes from a compact 800 x 800 right up to a spacious 800 X 1200mm and beyond so there is sure to be something to suit all sizes of bathrooms as well as all budgets.
Steam showers by Vidalux all share the highest standards with regard to ease of installation, build quality and aesthetics and a core feature set with the upper-end models having outstanding functionality at an excellent price.
Did you know??
That Vidalux use the very same components that are found in the much more expensive "high-end" brands and we believe Vidalux offers the best value for money for EXACTLY the same features and quality as showers costing twice as much
Ease of installation
If you're worried that installing a steam shower cabin could be complicated, then you can relax.
Assuming the plumbing is already in place, installing one of our steam showers is about as simple as any DIY job could be, partly because all Vidalux steam showers have been designed to be easy to assemble, partly because Vidalux provides all necessary hardware and partly because the installation guide is both clear and detailed and has a combination of diagrams and explanations written in plain English.
Alternatively, if you prefer to avoid DIY or are just short on free time, it should be very straightforward and affordable to hire a tradesperson for the job, particularly since these self-contained shower cabins can be placed in front of untiled walls, thus saving both the trades person's time and the cost of the tiles themselves.
Build quality
Our products are investment pieces and as such are built to last and it's this eye for quality that has quickly seen us become one of Europe's leading brands.
The bases are all made of reinforced acrylic on a steel frame. This means that they can safely hold even the largest and heaviest of users. The doors are made of safety glass and operate on high-quality runners so they will always open and close easily and smoothly without tugging or trapped fingers.
All the internal fixtures are of high-quality materials, which have been chosen for their ability to last for years even in the home of the most heavy-handed users.
While the main selling point of these showers is their steam functionality, even without steam, these showers are both powerful and flexible. Between the hand showers and the monsoon showerheads, they can deliver anything from a gentle mist to a warm, tropical deluge and since they are all thermostatically controlled, users are kept safe from being either scalded or frozen.
Vidalux backs its build quality with a warranty of at least two years and in most cases 5 years or more and since they have been in business for over 15 years, you can count on us being around to fulfil the warranty or anything else you may need in years to come.
Aesthetics
Vidalux understands that you may want to change the look of your bathroom over the time you have one of our steam showers and should you choose to sell your home, the purchaser may well look at the flexibility of the bathroom when deciding what price they are willing to pay.
Because of this, our steam showers have been designed to have a timeless look with clean lines, simple metallics and top-quality clear or mirrored glass, which will resist disfiguring scratches and will only add to the desirability and value of your home. Our showers are sure to fit perfectly within the most traditional designs as well as within the more modern designs.
The benefits of steam
Perhaps you've heard about steam showers and the benefits they offer, but are unclear about what they are. You know every single gym, spa and respectable hotel has a steam room but maybe you're not sure why. Let us summarize for you. Steam gets right into the core of the body and cleanses it from the inside out, pushing out toxins and everyday pollutants such as dust and pollen which can easily be absorbed into the body through the air we breathe or polluted environment. It's therefore particularly beneficial to anyone with respiratory issues and even arthritis as it softens mucus or soft tissues while increasing blood flow. It encourages the body to sweat and opens the pores to make sweating easier, thus helping to keep the skin in good condition. It also relaxes both body and mind, helping to ease away muscle pains and mental tension. In fact, some people may see this as steam's biggest benefit in a hectic modern world.
Aromatherapy
Steam and aromatherapy are a superb match, which is why Vidalux steam showers incorporate their benefits to the fullest.
As steam is water vapour it is an utterly pure base in which to carry essential oils, be that in the form of a ready-made blend or your own concoction.
Again, this functionality is especially useful for people with respiratory conditions as it enables them literally to breathe in oils which can help their condition, for example, menthol oils are known for their ability to clear out congestion in the lungs and sinuses and some of them have other beneficial properties, such as being anti-bacterial. Other people may wish to use it to treat other minor ailments, improve the condition of their skin even further or just help to improve their mental state.
Mood lighting
Lighting can also influence how we feel, which is why all our steam showers are equipped with chromotherapy mood lighting which can either cycle through a range of colours or can be set to stay on the colour which best suits your mood at the time of your shower. Depending on your choice, the effect can be calming or energizing, leaving you chilled out or raring to go.
Music
Music is all about emotions and, as such, is just perfect for including in what should be quality "me time". All steam showers by Vidalux are fitted with a superior sound system which incorporates FM or DAB radio.
As well as FM or DAB radio our showers also have Bluetooth connectivity to enable you to connect your mobile device, with your own curated selection of music and play it through your steam shower's speakers. Of course, Vidalux has ensured that all its steam showers are equipped with speakers which will perform capably even when the shower is operating to its maximum ability.
Touch Screen Control
The revolutionary touchscreen control panel is at the centre of everything that goes on inside the shower – As a minimum, it controls the steam off/on, temperature and timer, but also the extractor fan, radio, Bluetooth, volume, ozone and chromotherapy lighting. Think of this device as the 'Ipad' of the shower and you get the idea
Water Features
Of course, you don't have to have a steam session every time you shower, the range allows you to engage in any of the following, steam session, shower or steam and shower together, and of course, you can shower in any way you wish be it from the large overhead rain shower, the hand shower or the body massage jets, all of which are controlled by the industry-leading Vernet shower valve
More, So Much More
As mentioned above the showers come with so many features we could mention at length like the extractor fan, LED spotlights, Ozone cleaning system to mention a few. One thing we can say about all these features is quality, quality, quality. The 15 years Vidalux have spent evolving in this market, designing for other companies, installing, and manufacturing means we know more than ANY other company what it takes to make a great steam shower.
About the Author
Why Are We The Best?
Health and spa product specialist. I've been involved in the design, manufacture and retail of steam showers, saunas and spa's for over 22 years. I've been involved in every single process from design to installation. I've written many publications for many leading outlets as well as scientific papers. I'm able to say I'm one of the leading and most well respected voices in this field