Built with one single aim in mind – To be the healthiest, most desirable, self-build sauna range on the market. Nothing currently available can offer what these, stunningly designed saunas can offer. This forms part of the reasoning why Vidalux is the most well-reviewed shower and sauna manufacturer on trusted sites such as Trustpilot
Desirability
The specially selected, high-grade Canadian hemlock offers an eye-catching, fine and light tone that perfectly compliments most interiors. This sustainably sourced wood is known locally for its natural anti-corrosion is non-allergenic, non-toxic and has little to no wood aroma. The high-grade hemlock is specially treated during our production process to be much more resistant to shrinkage than the most commonly used grade, giving it a longer usage life when compared to other manufacturers
The captivating large glass front is essential to offer a much more enjoyable sauna experience. This large glass front on the Vidalux range is treated and designed to keep the heat inside the sauna whilst allowing the lights within the sauna to dazzle. This truly allows the sauna to become a beautiful feature within the home. The opposite of the most commonly seen 'box sauna', seen on the low-end of the market, comparable to sitting in a modified shed or wardrobe
All the operations within the Vidalux home sauna range are controlled by our soft-touch digital control panel. Thermostatically controlled heat settings and timer tailor the environment perfectly to your desired setting. A choice of either Bluetooth, FM Radio and USB deliver your choice of music up to the high-quality digital stereo twin speakers is housed in the ceiling of the sauna while the 7 colour chromotherapy 'starlights' and delicate uplights behind the wall panels fully captivate your senses to bring a whole new level of relaxation and health benefits. Allow the Ambient lighting to cycle through the various colours or select a single colour to suit your mood effortlessly from the hand remote control
Health
After years of development, Vidalux's patented next-generation 'Complete Heat Technology', offers unparalleled health benefits and relaxation properties. 'Full Spectrum' carbon fibre, ruby quartz glass embedded heaters work harmoniously in conjunction with the high-quality Nano-Carbon Crystal Panels, to finally end the debate, 'Which is better, Carbon heaters, Ceramic heaters or Full spectrum heaters', by offering the best benefits of all these worlds with none of the disadvantages. If you wish to have a high end, unbeatable health rewarding sauna, the Vidalux 'Full Spectrum' range is a perfect choice
Ceramic Only Saunas
First-generation ceramic heaters were powerful and emitted a lot of infrared heat, but due to the small service area, the wavelength tended to be shorter and only travelled in a straight line, therefore these are less therapeutic and less beneficial. This shorter spread of heat can be an effective way to focus more intensely on specific areas of the body that may need more 'close up' attention but these heaters often lead to saunas suffering cold spots at any distance away from the heater.
Carbon Only Saunas
On the other hand, developed to produce higher quality, long wave infrared heat, able to heat the body more intensely and penetrate deeper due to the surface area of the panels. Regular carbon heaters, although more beneficial to the user, their downfall was that they did not produce a lot of infrared heat and take a lot longer to warm up, although this lower heat makes them safer and users able to endure longer sessions and these panels can only product FAR infrared.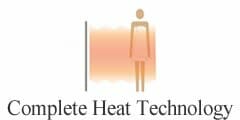 The Solution
Enter Vidalux and this unique range of Complete Heat Full Spectrum Saunas. Using only the best and most modern-looking materials ever seen in this category of saunas, we've completely scrapped the old ceramic heaters and replaced them with the next generation of concaved Full Spectrum carbon fibre heaters.
Simply search google and you find companies that offer the full spectrum heaters as a £200 to £500 upgrade on their ceramic heaters, such is their advantage. Not only that, but we've also redeveloped our next generation of carbon fibre to offer a 20% increase of the infrared output (emissivity) versus regular carbon fibre heaters and with low EMF.
The Heaters
Vidalux 'Complete Heat Technology' heaters were designed by Vidalux solely for use in our saunas and cannot be found anywhere else
'Complete Heat Technology' Nano-Carbon Crystal Heaters
Sited on the walls and floor of a Vidalux sauna, these long-life, next-generation low-EMF panels produce the high-quality FAR infrared spectrum that this technology was designed to deliver. The unbeatable level of health rewards obtained by the user also ensures the cabin is heated throughout with no cold spots while keeping the running cost down.
'Complete Heat Technology' Full Spectrum Carbon Fibre Ruby Quartz Heaters
Underneath the ergonomically designed backrest, located close to the user and those large muscle groups, just where the body needs it. These full quartz embedded next-generation, Low EMF carbon fibre heaters begin to heat the sauna instantly, producing a powerful, well balanced, high emissivity full spectrum infrared heat. The Near, Middle and Far wavelengths from these heaters not only delivers additional benefits, but it also increases the benefits of the most useful spectrum, the FAR wavelength.
Full Spectrum
Full-spectrum is a reference to the entire coverage of the infrared spectrum: near-infrared, mid-infrared and far-infrared wavelengths. A lot of infrared saunas on the market today cover only one of these ranges, the 'FAR Infrared sauna'. These inferior saunas completely bypass the numerous health benefits of the remaining two ranges just to save cost.
All the models in our range incorporate our patented 'Complete Heat Technology' Full Spectrum heaters producing near, mid and far-infrared waves. With the deeper penetration, full-spectrum infrared will raise your core body temperature faster, better aid in healing the body, greater reduce inflammation as well as other all-round performance increases. It is thought an additional 10-15% benefit is gained from a full spectrum sauna versus a FAR only sauna.
Near Infrared – between 0.075 – 1.5 microns. The shortest wavelength absorbed and penetrates just below the surface of the skin and creates perspiration that promotes and acts are the gateway to expel the bodies toxins and promotes healing and revitalisation of the skin
Mid Infrared – between 1.5 – 5.6 microns Penetrates deeper into the body's soft tissue increasing circulation, releasing oxygen and white blood cells from the immune system
Far Infrared – between 5.6 – 15 microns is the longest wavelength which penetrates the fat cells causing vasodilation, where the fat cells vibrate to expel toxins, resulting in the greatest levels of detoxification and stimulation of your metabolism to aid in weight-loss.
Click Here To Read A More In-depth Article On Vidalux's 'Complete Heat Technology, How It Works And It's Benefits
10-15% increase on health benefits. Near, Mid and Far Infrared waves offer deeper pentration to areas others cannot reach

Raise core body temperature faster, aids healing better, greater reduction in inflammation the advantages are endless
Concaved ceramic elements for a fast heating sauna together with Nano-Carbon Crystal panels for wide spread, deep absorption

The best of both worlds delivered by surgical-grade stainless steel deflectors. Unbeatable level of health rewards
DRAMATICALLY increase infrared absorbsion and coverage with our concaved heater element design and innovation

Next-generation, low-EMF, high-quality FAR infrared spectrum technology for an unbeatable level of health benefit
Quick build design technology offers a fully built sauna in less than 15 minutes. A breeze for any DIY novice

'Click & Lock' panels save time and money. Start taking advantage of the health benefits of a home spa in no time
Subtle blue or ambient red or leave to scroll a full spectrum of mood lighting? The choice is yours at the touch of a button

Let the chromotherapy lighting captivates your senses to bring a whole new level of relaxation and mindfulness
A leading brand with leading warranty and support. Full 5 year warranty against all manufacturing or product failure

In the unlikely event you need it, we got you covered. Continous supply of spares and replacements even after warranty expires
Our standard service at 5-7 days for delivery which is pretty quick. Got a leaking shower and need it quicker? Not a problem....

CLICK HERE

to take advantage of our express and even NEXT DAY delivery services